Leadership development programs are crucial to organizational success.
Yet, 61% of companies offer no leadership training.
As a result, the average company forfeits more than $1 million annually in untapped potential and loses up to 50% in productivity because of subpar leadership practices.
-LinkedIn Study
The key to retaining good talent is offering the personal and leadership development skills they need to step into their full potential.
With over 15 years of experience and over 100 mindfulness techniques in our toolbox, our evidence-based mindful leadership trainings develop the leadership skills needed to enhance company performance.
Here are our primary trainings – available as 90 minute, half and full day events:
Creating Calm: Managing Power Stress and Developing Resilience Through Mindfulness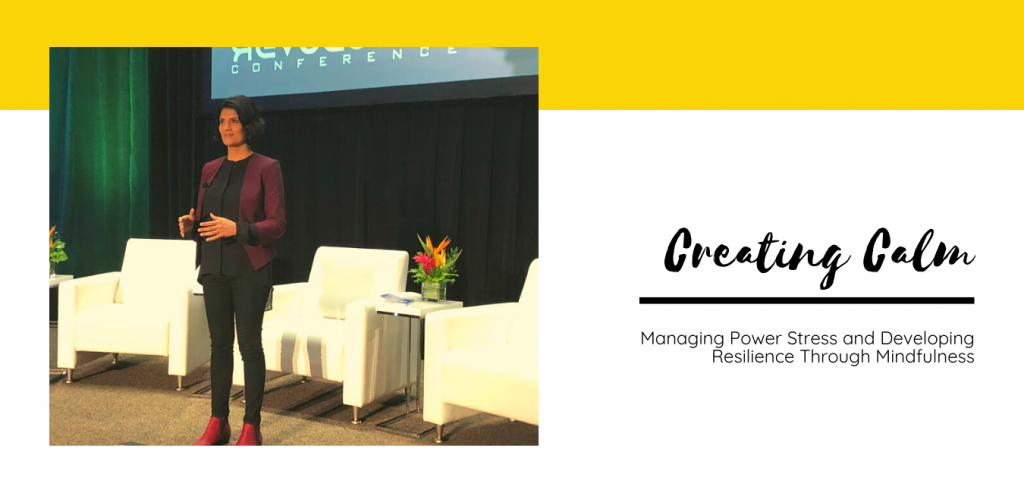 Power stress is the awareness of the influence and responsibility that comes with being in a leadership position and the additional pressure to make the right decisions for one's teams and organization. High levels of power stress reduces empathy, impacts productivity and increases reliance on old patterns of behavior.
To counter power stress, leaders must learn to manage themselves effectively. In this training we dive into the neuroscience that drives our stress responses and how mindfulness can counter them.
We were struggling with the everyday stresses of a cyclical business with a lot of change. Puja's training provided us mindfulness tools to bring focus to the present moment. Focus so that work can stay with work and when you're home you're really home. Aside from improved performance – up to 130% of quota – my team has told me they feel empowered with more tools to stay calm and be happy. They are more present with their spouse and family.

Lindsey Fore
Northeast Area Business Director, Assurex Health
Creating Time: How Mindfulness Improves Focus and Performance for Deep Work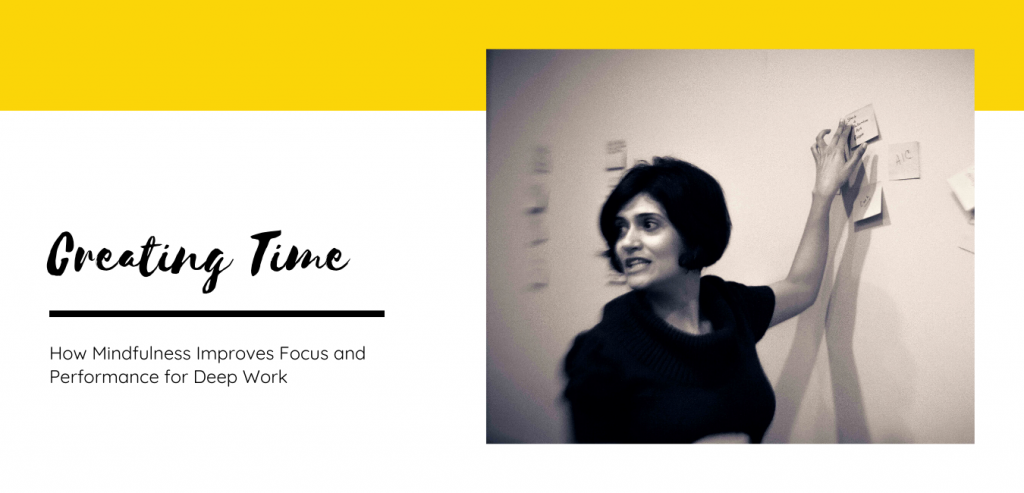 An organization's performance is directly linked to its leadership's productivity and effectiveness. When leaders overwork (and under-produce) the affects trickle into the organization. Frazzled, stressed and distracted leaders are unable to create time to mentor and coach their teams, resulting in the loss of time, money or good talent.
The Creating Time training has a profound impact on leaders' productivity: from attention training to improved focus and clearer direction and decision-making.
Puja is connected to a deep wisdom with a knowledge of business that is practical and effective. It's hard to describe the peace she brings to my thinking about my processes. If there was one word for it I would say – divine. She is an important guide and coach for leaders and entrepreneurs trying to make sense of their business, productivity and meaning in their lives.

Jen Cudmore,
Entrepreneur and Author
Creating Trust: Conscious and Collaborative Communication at Work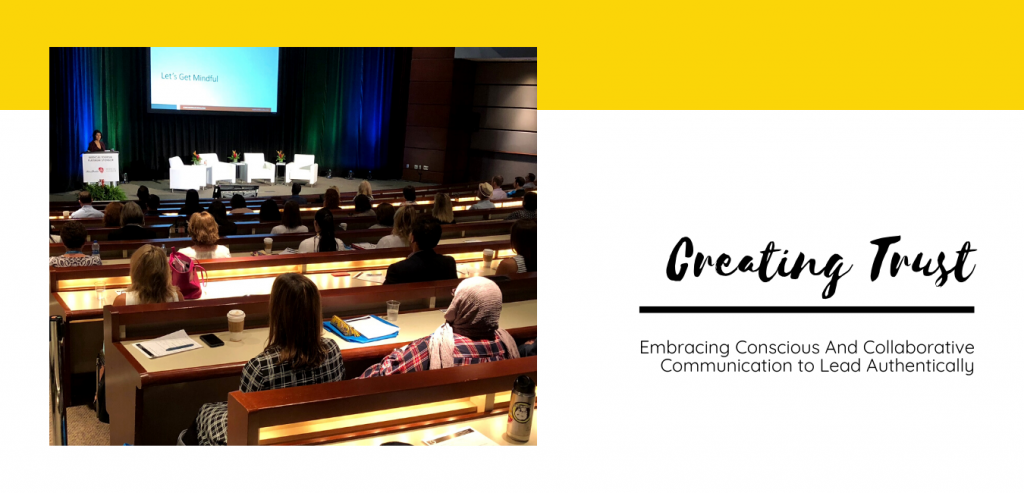 Communication is the thread that allows leaders to create a culture of trust and commitment. A group of bright and diverse thinkers creates a dynamic environment with multiple ideas, goals and views. It is the work of mindful leadership and conscious communication to forge a unified vision everyone feels aligned with. Poor communication can very easily lead to conflict and mistrust, which is both distracting and costly to organizations.
The solution is to build a culture that reflect leaders' natural instinct to connect and bring out the best in their employees. In this training we explore mindful communication frameworks to communicate with clarity and collaboration.
I see real application to corporate health improvement through mindfulness. Puja delivered a wonderful training. It was so very authentic and real. I loved it. Thank you.

Derek Crowther,
Director of Training, Myriad Genetics
Creating Belonging: Psychological Safety, Inclusion and Innovation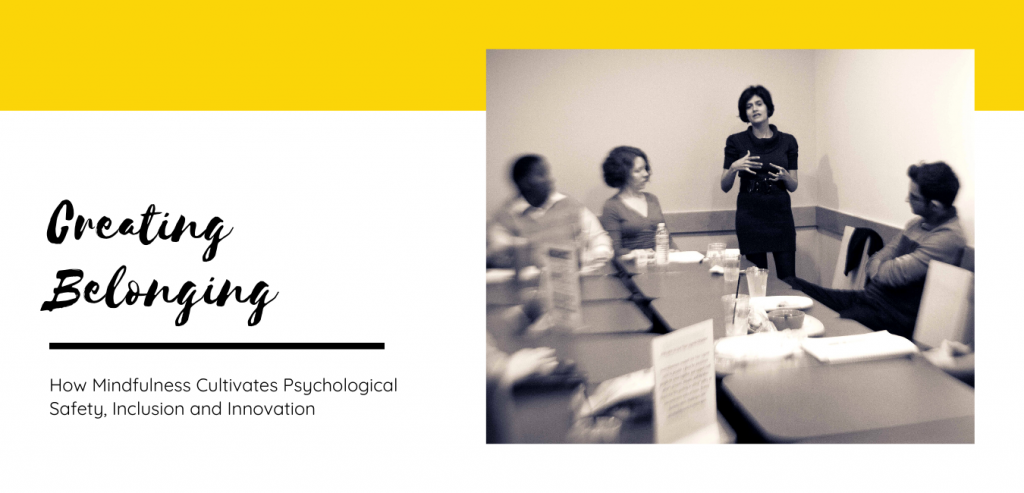 The mindful approach has an entirely different impact on how leaders view themselves, the world and what are called "out groups"—groups that tend to be, minimized in society. Instead of intellectually processing information and learning right/wrong behavior, politically behavior, mindfulness actually reduces implicit bias, creates fresh new perspectives and enables leaders to rely less on previously established associations to hire, train and promote with othering.
I appreciated you presenting and sharing your expertise and knowledge at the Summit. Your presentation will positively impact how participants manage their organizations and work to keep Orlando a strong and vibrant city.

Orlando Mayor Buddy Dyer
Want To Explore Our Trainings and Workshops?
Book Your Consultation Below