Mindfulness is derived from the Sanskrit word sati: the practice of actively attending to the present moment. When we are fully present and able to hold space for our thoughts and feelings in a non-judgmental, compassionate way, a few things happen.

First, we begin to access our inner resources and intelligence in a way we can't when our minds are over-active, stressed, or pre-occupied.
In this state:
We make decisions faster and more intuitively
We develop greater resilience to bounce back from challenges and hardships
We come up with creative solutions more easily
We're able to break old unhealthy patterns of behavior
In short, we tap into our innate creative life force energy, which propels us forward into our full potential.
Second, mindfulness cultivates deeper levels of self-acceptance and self-compassion that we are then able to extend to others. This is a powerful inner shift, especially for leaders, who are in the business of relationships and have traditionally tried to acquire these qualities intellectually and extrinsically.
How Leaders Benefit From Mindfulness
Ultimately, our greatest asset as leaders is our self-awareness, which paves the road for self-mastery.
Imagine the sailing ship that has multiple holes in its sail. It chugs along slowly, painfully, creakingly — but is unable to harness the full power of the wind and waves. Leadership is like that ship. Unless we plug all the holes draining our vital, creative, life force, we can't move effortlessly and quickly into the direction of our goals. Through mindfulness we're able to plug all that is draining our energy and time so we can lead with intention, integrity, and true power.
At The Mindfulness Map, we have a two-pronged approach to mindful leadership involving the following areas of awareness: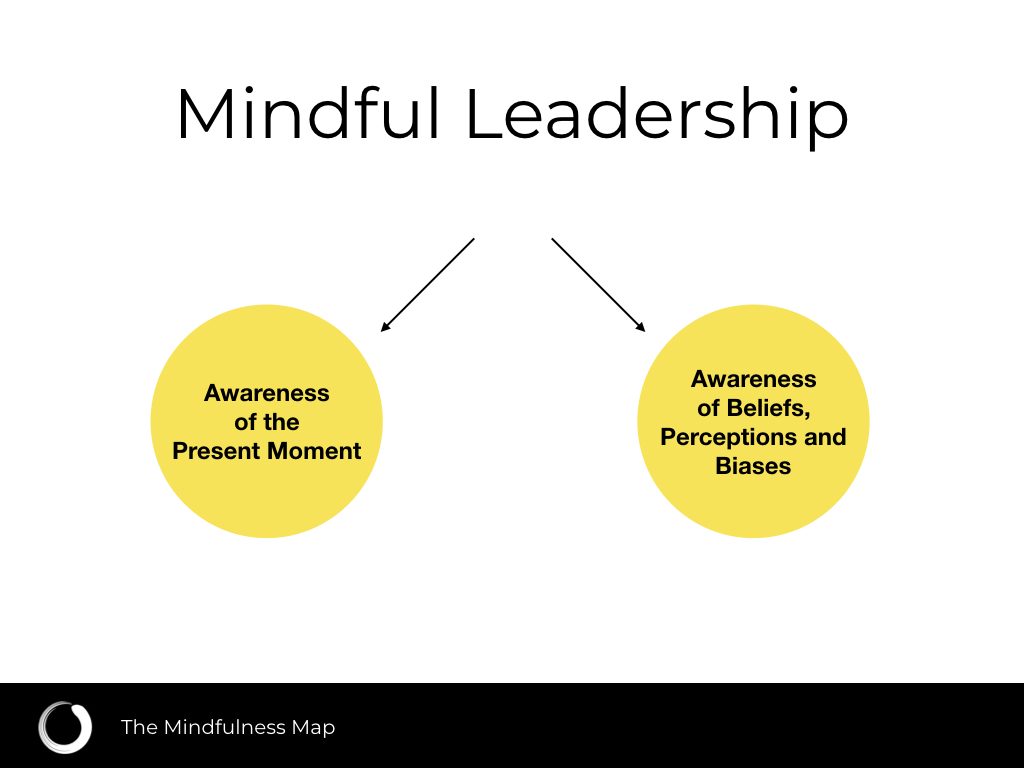 Awareness of the present moment helps leaders in specific ways: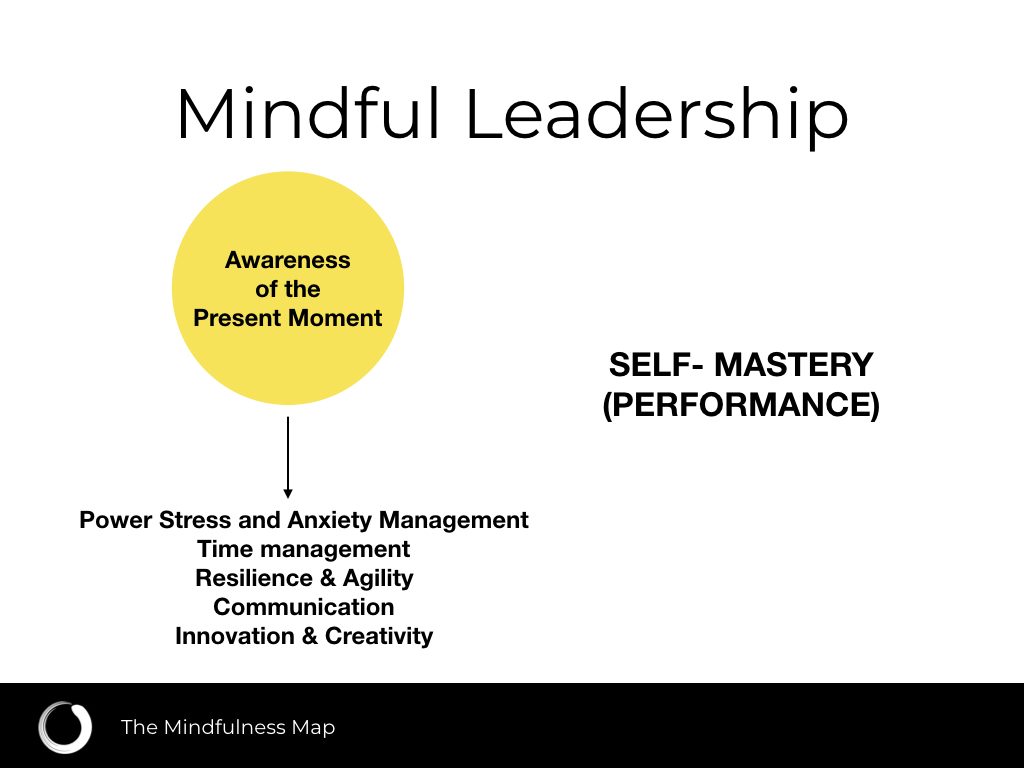 And awareness of beliefs, perceptions and biases helps with an entirely different set of leadership disciplines: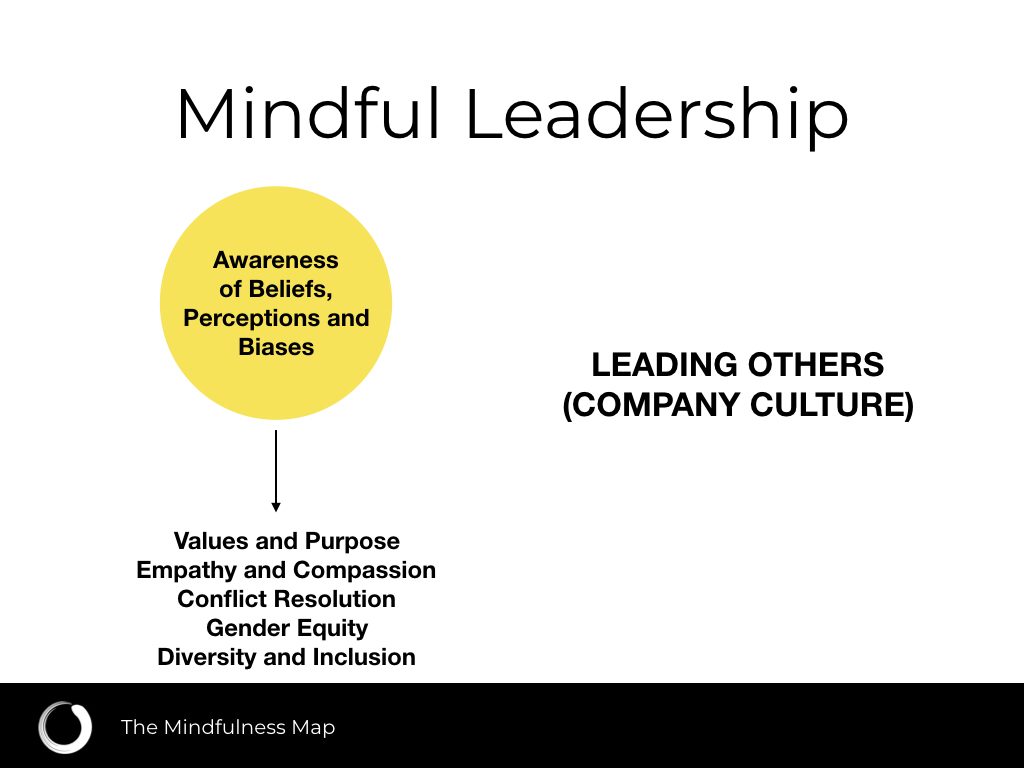 Mindfulness Cultivates Purpose-driven, High-performing Leaders
Here are all the areas where mindful leadership benefits leaders and their companies:
Resilience and Agility
Mindfulness can teach the mind to manage emotions more effectively and productively. It allows leaders to reset, recharge, and gain a positive perspective quickly.

Vision and Leadership
Mindfulness training increases leadership skills like inspiring a shared vision and demonstrating moral intelligence. It also enables executives to consciously choose what's best for the individual, team and organization.

Conscious Communication and Conflict Resolution
Mindfulness creates stronger, healthier team-dynamics, a more positive work culture and conscious communication strategies to prevent or address conflict.Resilience and Agility:
Mindfulness can teach the mind to manage emotions more effectively and productively. It allows leaders to reset, recharge, and gain a positive perspective quickly.

Focus and Clarity
Mindfulness can improve working memory, executive function, and focus. Executives stay on the same tasks longer, make fewer switches and report more work fulfillment.

Creativity and Innovation
The state of relaxation achieved through mindfulness facilitates enhanced creativity, innovative solutions and the ability to look at problems in a fresh light.

Empathy and Compassion
Mindfulness reduces perceived threats, resulting in leaders who lead with a calmer, collaborative, compassionate, open-minded and non-judgmental temperament.

Diversity and Inclusion
Mindfulness helps executives decrease unconscious biases, see others as equals, and rely less on previously established associations to hire, train and lead teams.

The Stats on Mindfulness
66% better manage their stress
60% increased focus and better decision-making
34% performance under pressure
46% increase in innovation and creativity
91% positive impact on company culture
The Embodiment of Mindful Leadership
I want to stress that through mindfulness these qualities above aren't just intellectually processed and externally acquired, instead they are internalized and become part of us just as our sense of humor or our height is a part of us — we can't extract it out.
Through mindfulness, leaders begin to show up in deep alignment between who they are, what they believe, and how they act. Mindfulness becomes the mirror to reflect their true self back to them, so they can pause, reflect, and course-correct when needed.
Mindful leaders embody a kind of conscious leadership that inspires others not through their talk, but through their walk — through mindful actions, choices, and their very presence. They become catalysts. They spark a ripple effect that trickles down into the organization.
Interested to learn more? Please contact us for more information.